The crew sign-in feature has been activated to improve security and prevent unauthorized use of accounts onboard. If enabled, Internet and email will only be available to crew members after approval from the captains. Authorized persons will receive an email asking for approval, whenever a new sign-in is performed onboard.
On the main dashboard, the captain will have an overview of the existing crews that have successfully registered onboard as well.
The captain will also receive a system notification for every crew's sign-in request in the inbox. This helps the captain to verify the crew details before proceeding with the actual approval onboard.

APPROVING CREW SCHEDULE ONBOARD
Login to Dualog Connection Suite using the vessel account:
Click Pending Sign-On (Alternatively, click on the menu located at the top left corner > Pending Sign-On)

Click Approve or Reject the Sign-Ins Pending Approval for the crew.
Approved Crew will now appear on the main dashboard.



SIGNING ON BEHALF OF A CREW MEMBER
The captain may register a crew account onboard on behalf of a crew. (Note: This feature may or may not be available, depending on the access right given. Please check with your company for further details)
Upon logging in to Dualog Connection Suite using the vessel account:
Click Sign-On Crew
Select or search for the appropriate crew
Select the "To Date" accordingly
Click Sign-On Crew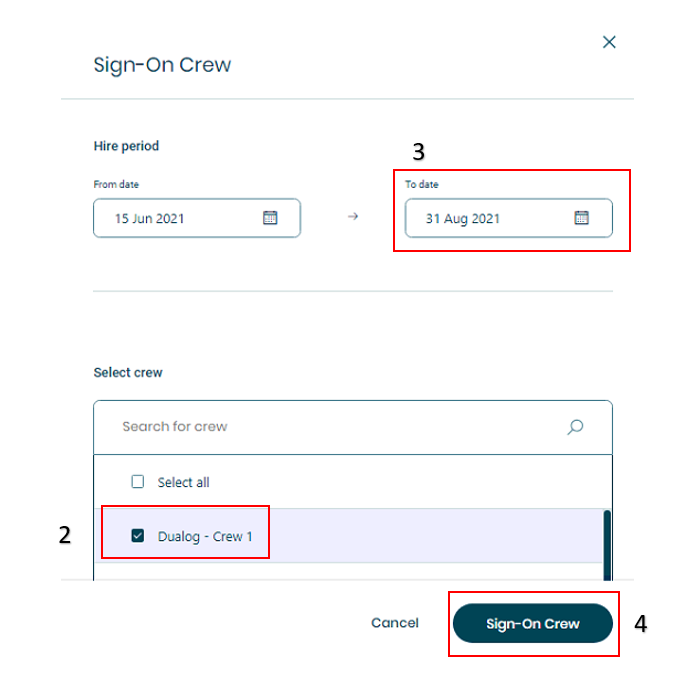 The newly signed-on crew is now reflected under the existing crew list.