INTRODUCTION
Dualog® Network Control is an easy-to-implement SaaS firewall and router, ensuring optimal data traffic between ship and shore regardless of communication equipment on board.
Dualog Network Control allows IT-administrators to manage separate networks, e.g. crew, administrative and operational. Such network separation dramatically reduces the possible impact of cyber incidents and breaches.
For more information, click here to know more.
SETUP PAGE

Dualog® Network Control can be accessed, configured, and enabled through our Dualog Apps Portal > Connection Suite > Network Control > Configure Network Control
Select a vessel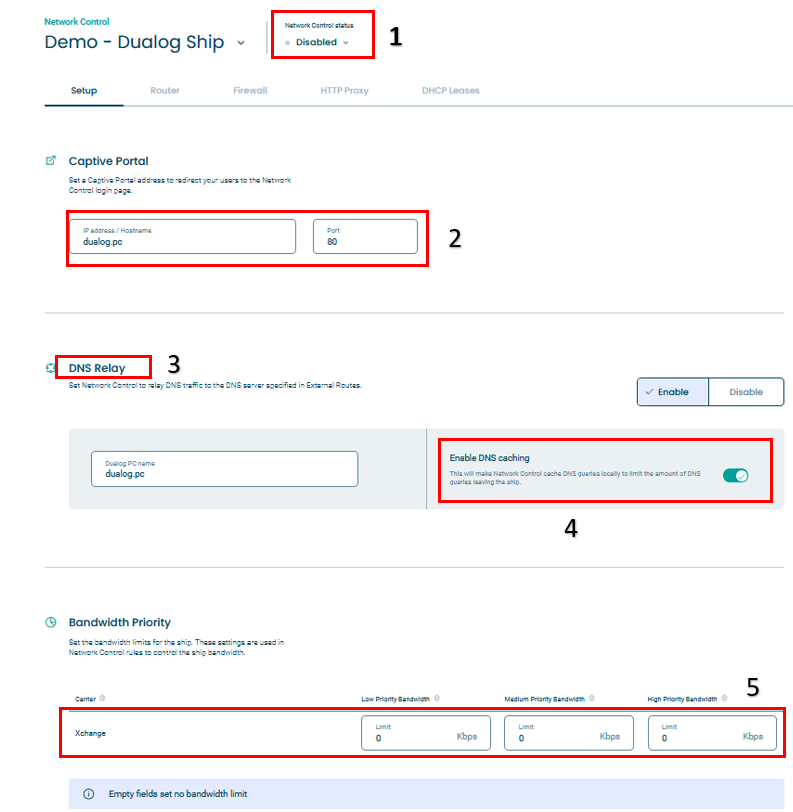 ENABLE/DISABLE NETWORK CONTROL

Toggle the network control status between Enable and Disable, where a message will prompt for confirmation

CAPTIVE PORTAL

Set a Captive Portal address to redirect your users to the Network Control login page.

This usually refers to the IP address or hostname of the Dualog server

The default port used by the service is 80 and can be changed accordingly

Example of a captive portal address: dualog.pc/ipcontrol

DNS RELAY


Upon enabled, set Network Control to relay DNS traffic to the DNS server specified in External Routes under the Router tab.

Note that Network Control will only relay DNS traffic that is directed to the Network Control computer itself.
If the DNS relay item is disabled, Network Control will use all onboard computers' DNS settings and will not change DNS resolving in any way.

DNS CACHE


This will make Network Control cache DNS queries locally to limit the amount of DNS queries leaving the ship.

If the DNS caching is enabled, Network Control will monitor all DNS traffic. For each DNS request, Network Control will consult an internal DNS cache before forwarding DNS requests to the Internet.

If the DNS resolving request is found in the internal cache, Network Control will return to the requester the DNS reply from the cache and avoid an expensive roundtrip to the real DNS. If the DNS cache checkbox is not ticked, no caching will be performed and all requests will be forwarded to their original destination.

Please note that DNS relay and DNS cache are independent of each other.

All DNS traffic is subject to subsequent rule processing similar to all other traffic

BANDWIDTH PRIORITY

Set the bandwidth limits for the ship. These settings are used in Network Control rules to control the ship bandwidth.

Empty fields refer to no bandwidth limit and would be dependable on the respective carrier's data package.

Individual firewall rules specified under the Firewall tab with the preferred priority will apply low, medium, and high priority bandwidth.