INTRODUCTION
When in need to streamline installations of the Digital Platform on multiple clients, the Silent Installation will prove to be a flexible and reliable tool. This article includes steps that explain where to fetch the relevant components and how to install them on the designated machine.
For the standard installation, click here (Dualog Client - Installation)
PRELIMINARY STEPS
1. Click here to download the .INF file and place it on the desired target local folder of the designated machine. This file includes the following default variables:
[Setup]
Dir=C:\Dualog

[Services]
Dualog Drive=1
Dualog Protect=1
Dualog Access=1
Note:
1 = you want to install the product; 0 = you do NOT want to install the product

You can amend the value, depending on which service you would like to install, and then save the .INF file again.

Dir refers to the directory where the Digital Platform service(s) will be installed.
2. Place the "DualogClientInstaller.exe" that has been downloaded from https://apps.dualog.com on a local directory of the designated machine
3. Open the Command prompt (CMD) and browse to the local directory where the .INF file and DualogClientInstaller.exe have been installed
4. Type the following command line and hit enter:
DualogClientInstaller.exe /VERYSILENT /SUPPRESSMSGBOXES /NORESTART /LOADINF="<path\optionsfile>"
Example (If both files are placed in C:\dualog):
DualogClientInstaller.exe /VERYSILENT /SUPPRESSMSGBOXES /NORESTART /LOADINF="C:\dualog\install.inf"
5. The installation will run silently in the background
PROCEDURE SANITY CHECK
Access the Control Panel, then navigate to Programs > Programs and Features. The following should be installed and visible:

A shortcut called "Dualog Digital Platform" should appear on the desktop. Once run, it will grant access to the registration page: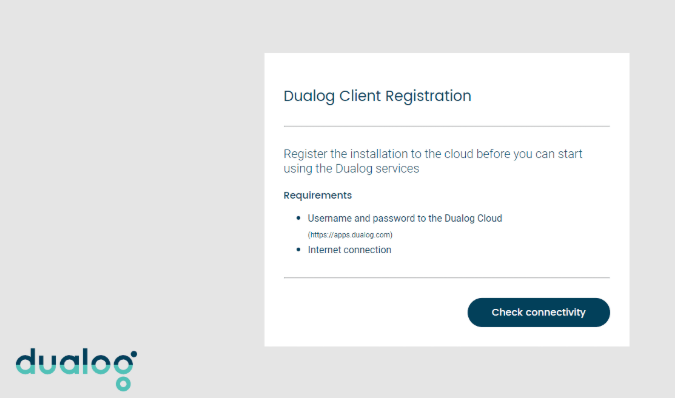 Do take note that the registration is still a manual process and has to be performed by the end-user. (Click here for more information)
COMMAND-LINE PARAMETERS

Parameter
Description

/SILENT

The wizard and the background window are not displayed but the installation progress window is visible.



/VERYSILENT

Same as /SILENT but additionally the progress window is hidden.



/SUPPRESSMSGBOXES

Suppresses all message boxes. It only has an effect when combined with /SILENT or /VERYSILENT.



/NORESTART

Prevents the installer from restarting the system. Typically used together with /SILENT or /VERYSILENT.



/LOG="path\logfile"

Specifies path and filename of the log file. By default, the installer will dump the log onto the current user's temp folder:

%TEMP%\Setup_Log-(date).txt.




/LOADINF="path\optionsfile"



Loads installation options from file.