INTRODUCTION


Dualog® Quota enables shipping companies to offer internet to the crew in a controllable manner. The service will help shape traffic according to company policy, ensure cost control and assure fair usage distribution. Paired with the free and award-winning CrewConnection™ App, seafarers gain full control of their data usage.

CONFIGURING QUOTA ON APPS.DUALOG.COM

Dualog Quota can be accessed on the apps.dualog.com portal.
The configuration consists of two operations:
Enabling quota.
Creating company price lists for different communication systems.
Log on Dualog's Customer Portal (https://apps.dualog.com).
Click Main side bar , Home , Quota as illustrated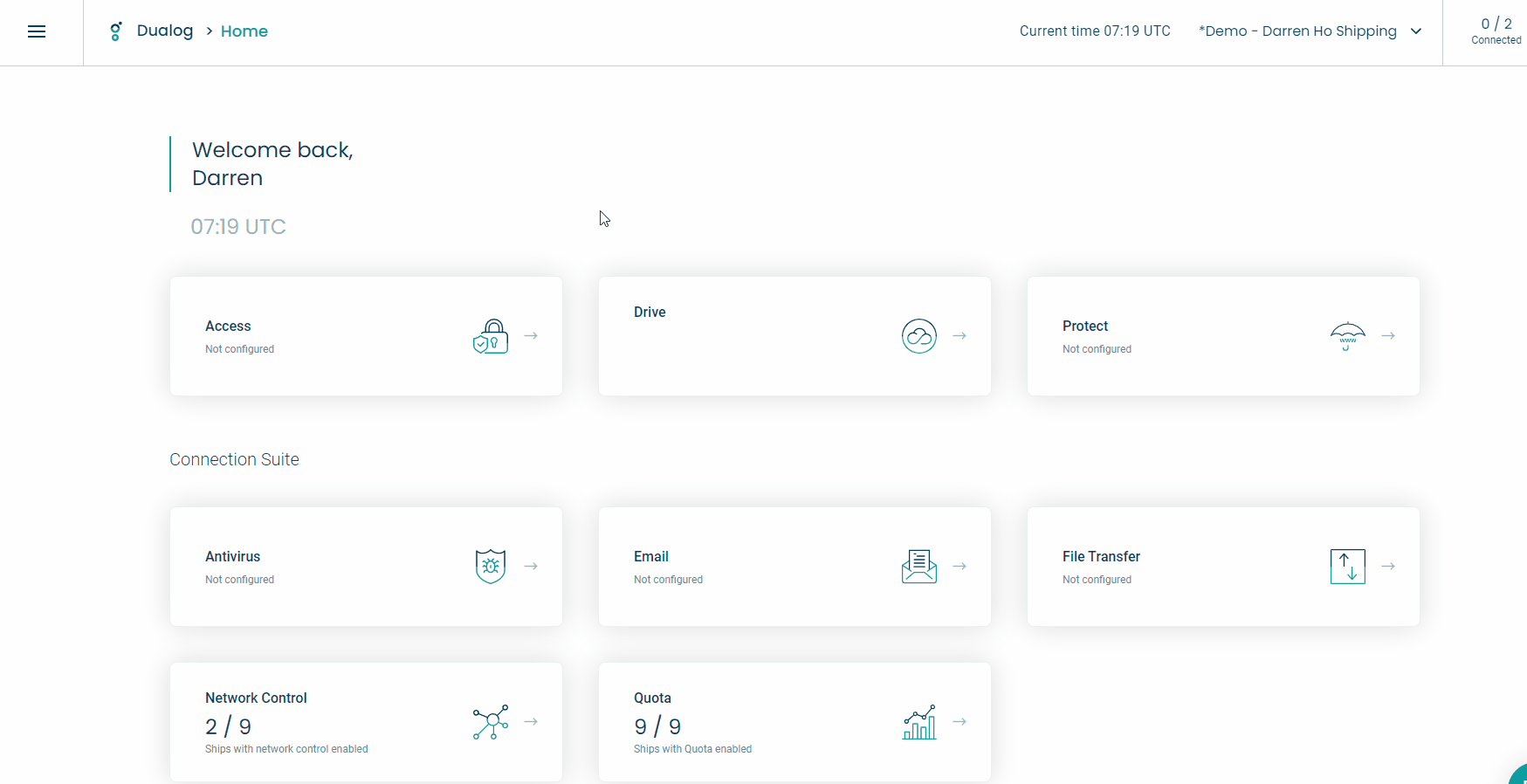 MAIN MENU

The Quota Management general configuration consists of 3 elements:
Generate Quota Report
Price list
Max amount user can buy per month and currency
To help the quota users on board limit their expenses, it is recommended to set a maximum roof value per month.
PURCHASING LIMIT

This setting will set a limit to how much a quota user can buy as extra data for personal consumption.

Click Edit in the Purchasing limit window
Fill in the currency abbreviation (e.g. USD) and maximum/minimum purchase limit per seafarer per month as shown in the below


Warning:
If the currency is changed at a later date, all historical data will ALSO change currency.
Numbers will not change, but it might be confusing when people have purchased quota in EUR, and then later it says that the purchase was in USD. Choose currency carefully and stick to that currency!
ENABLING/DISABLING QUOTA
The general Quota configuration is accessible selecting Ship Setup under the main Quota section.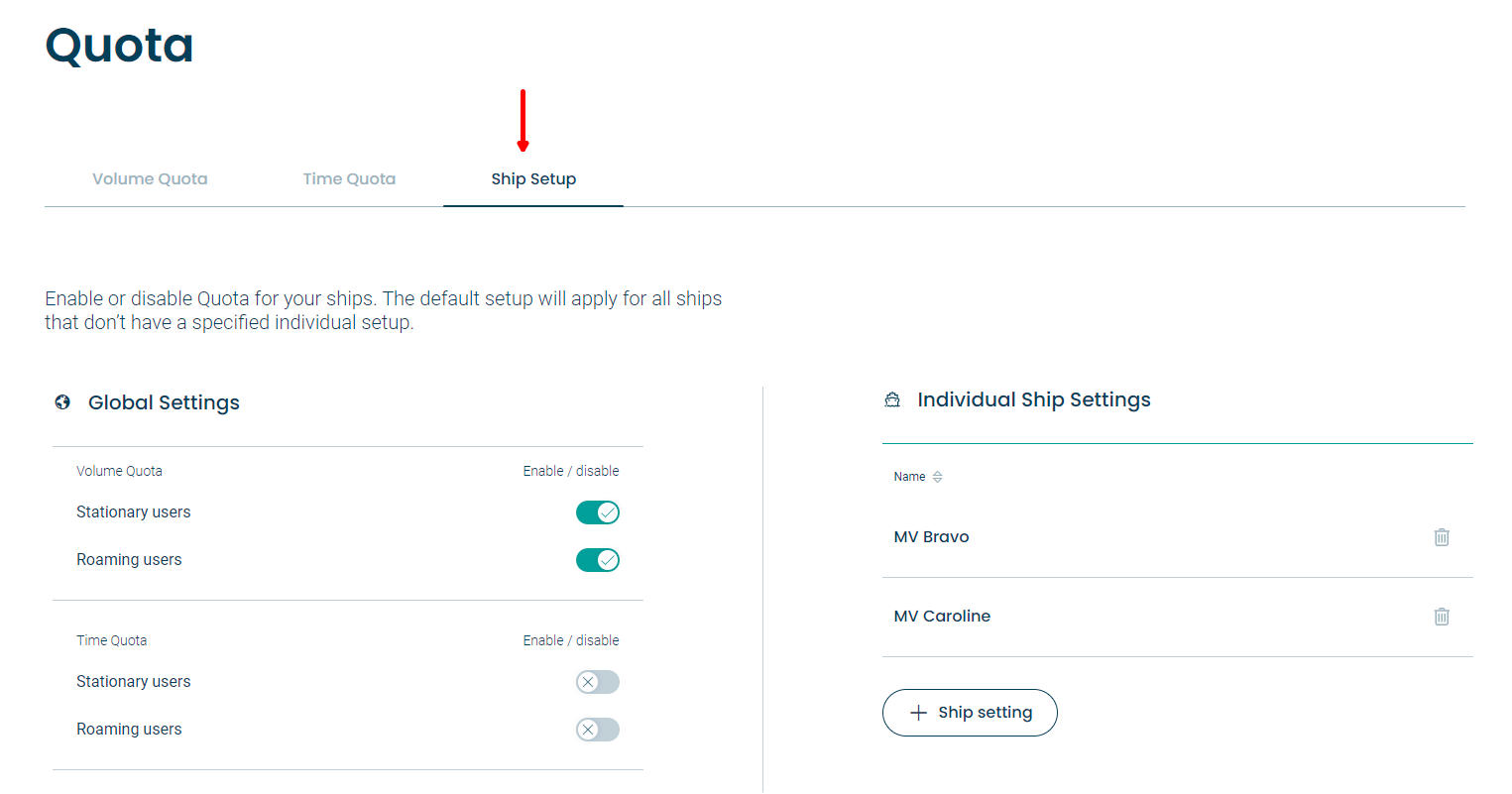 Global Settings: Enable/disable quota for Stationary/Roaming users.
This will enable volume Quota (based on data traffic) or time Quota (based on connection time). This is the default, global setting for the entire Company.


Indivisual Ship Settings:
Quota can be configured on a ship level. This will override global settings.


To enable or disable quota for individual ship. Click the + Ship setting button or the Ship under Ship list setting and configure the setting accordingly.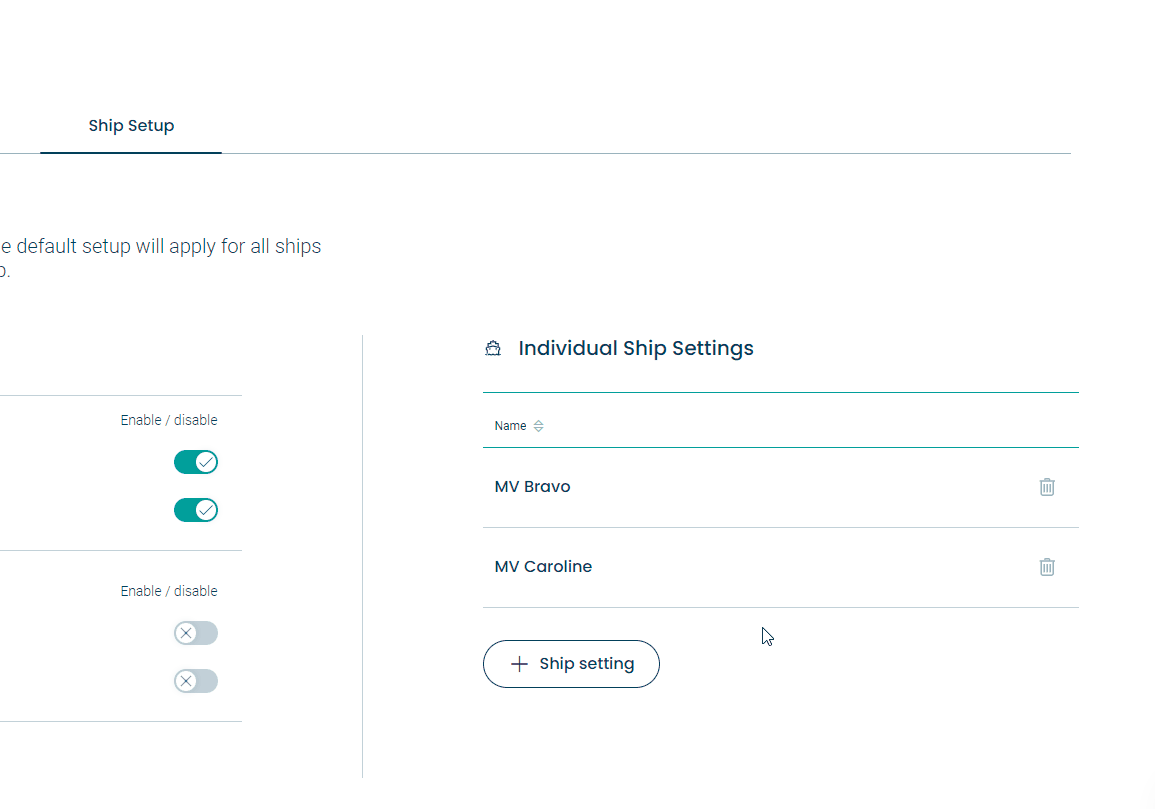 ENABLING/DISABLING QUOTA
Configuring price lists can be simple or complicated – depending of the complexity of the fleet's communication equipment and user groups. This guide gives an overview of the basic configuration.
Price lists can only be configured on shore portal. On ships, only current price lists can be viewed when purchasing quota. Price lists cannot be modified onboard the ships.
ADD PRICE LIST
On the main quota page, it is possible to Add a price list.
A price list consists of two items: Price list target and Price list date.
Price list target defines what communication equipment the price list is valid for, and whether the price list is valid for a specific CS Group. Multiple rules can be added here, but it is recommended to keep the rule set as simple as possible. A price list may be applied fleet-wide or for a specific ship.





Price list date defines from what date the prices are valid, the company's set price per MB of traffic, if there will be free quota and whether purchasing of extra quota is allowed.


PRICE LIST TEST CASE
What follows is an example on how to create a price list for a company that has a fleet fitted with VSAT as its primary communication carrier and Inmarsat FleetBroadband as its backup carrier as illustrated below.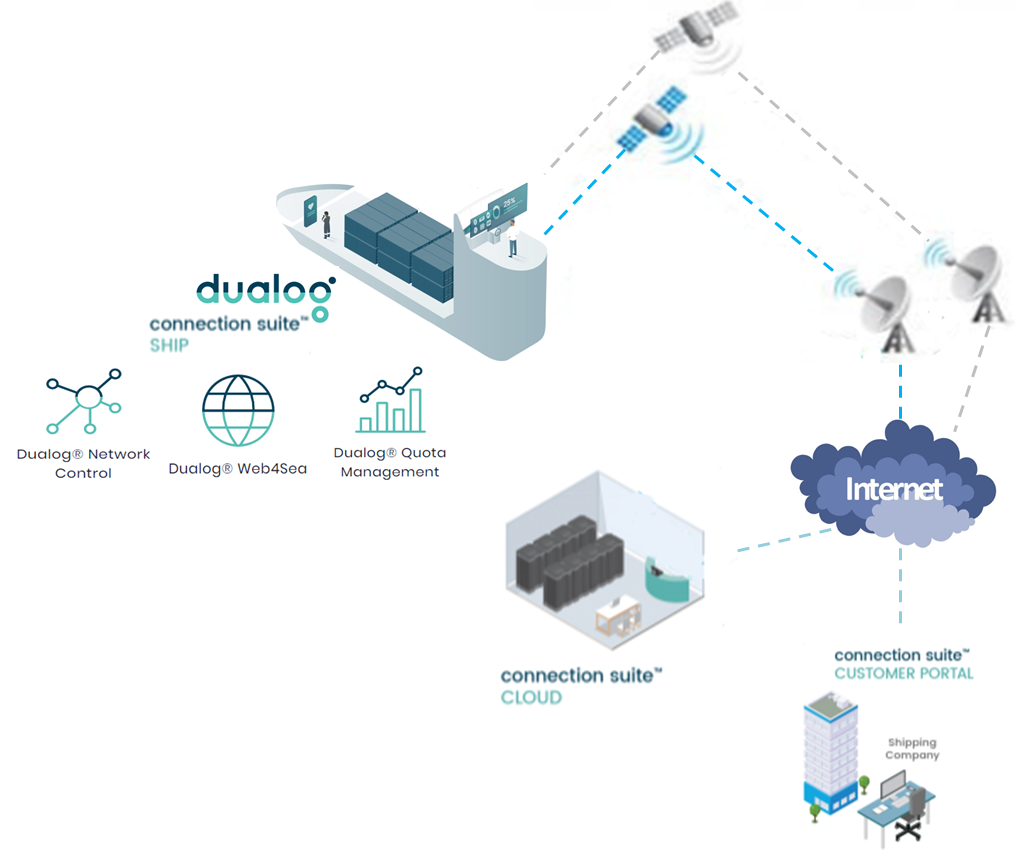 Click on + Add Price list, then on +Add Price Change. Here, select the amount of free quota to assign to the quota profile and whether purchase of extra quota is allowed, with the related price per MB, and click on Save.




Click on + Add Specific Target and define which communication system and CS group it will be valid for,


The final price list should now look like this:



Add a Description for the newly created price list and click on Save to complete the price list configuration