INTRODUCTION
Automatic Cloud Connection, previously known as "Least Cost Routing", commonly abbreviated to 'LCR', is the configuration of automatic connections and failovers of the current active communication equipment on board.


HOW TO ENABLE THE AUTOMATIC CLOUD CONNECTION
Login to the Dualog portal with an admin account with enough privileges.
On the menu located on the top-left corner, go to Connection Suite > CS Ship Setup
Select a vessel > click on Communication tab
On this page, you will see an overview of the vessel's previously configured communication equipment.
You may enable the Automatic cloud connection for the methods you would like to connect at an automatic interval, by default every 20 minutes.


Once the Automatic Cloud Connection is enabled, it is possible to choose the priority of the methods with the up/down arrows if automatic connections are enabled for more than one piece of equipment. Typically, the equipment with unlimited or cheapest data packages such as VSAT should be set as first priority.



Disclaimer

: This is an example of the most common configuration, in which the Dualog system will attempt to connect over the configured first priority, such as VSAT, and failover to the second priority, such as Fleet Broadband or Iridium, if the connection over the configured first priority fails more than a certain number of times as configured on the following section of the article.


"Skip" can be configured if you want Dualog to attempt one or more additional connections over the first priority equipment before failing over to the second priority equipment.


To configure the amount of skips, open the drop-down menu and enter "Skip settings". A skip value of '1' will force the Automatic Cloud Connection to try the selected carrier only once, before failing over to the next one.


AUTOMATIC CLOUD CONNECTION SETTINGS
Under Cloud Connection Settings, there are additional configuration options to fine-tune the connections interval behaviour.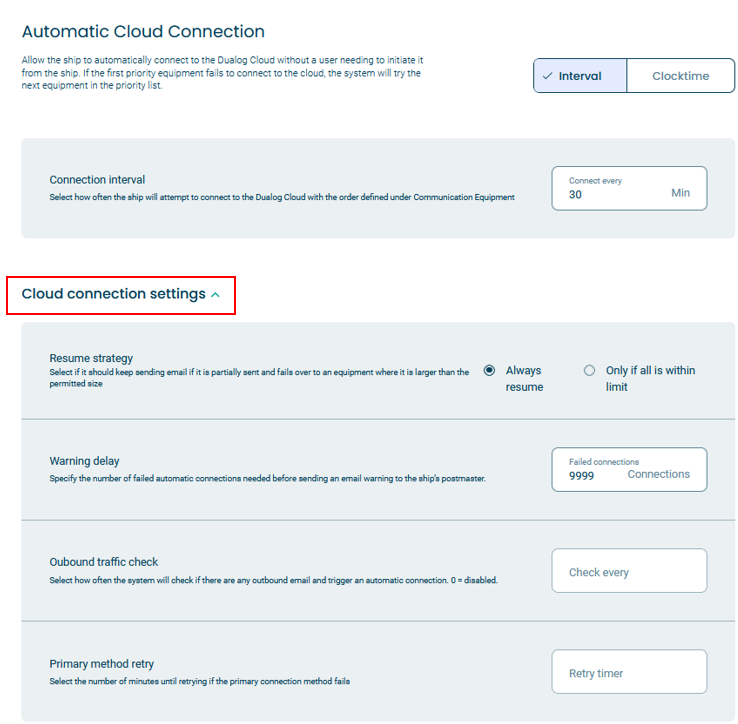 Connection Frequency: This defines the automatic connection time interval, which is set to 20 minutes by default.
The interval can be changed to be shorter or longer, or, less frequently, at specific UTC clock times.
Warning Delay: This is the delay before the Dualog system will send an automated warning message to the vessel's postmaster account stating that Automatic Cloud Connection has failed. It is common to set this to at least "3" to prevent the postmaster account from receiving a large number of these automated messages when coverage is poor or intermittent.
Outbound traffic check: Outbound traffic checking runs concurrently with the connection interval, where the Dualog system checks every 'X' minutes to see if there are any pending outbound emails on the vessel, where 'X' is the optionally specified number.
If this is the case, Dualog will perform a connection before the Connection Frequency interval is triggered.
Primary method retry: this defines the number of minutes that need to pass before trying to connect again if the primary connection method fails.