Dualog Connection Suite consists of a standard package plus optional extensions. This document describes requirements of different configurations of Dualog Connection Suite, as well as software requirements/support. This document is valid from Dualog Connection Suite version 2.28 and onwards.
CORE INSTALLATION HARDWARE REQUIREMENTS
Please note that these requirements are a minimum.
IMPORTANT: If other applications are running on the same computer as Dualog Connection Suite, higher CPU, memory and disk capacity apply.
The following requirements apply when running the Dualog Connection Suite Core service only:
| | |
| --- | --- |
| CPU | Intel® CoreTM i3 or equivalent |
| RAM | Minimum 2 GB (recommended 4 GB) |
| DISK SPACE | The installation itself take approx. 50 GB. In addition data storage (e-mail, log files, File Transfer, database etc) must be added. See 2.2.1 for email estimates. HQ graded server disks are highly recommended. |
| I/O | Serial Ports, Network Adapters according to communication equipment requirements. |
When using the email services (Business Mail and Crew Mail), no further requirements apply to CPU and RAM, while disk requirements will increase.
In average the email services generates approx. 20 GB per year, while backup will add up this space multiplied by 4.
To avoid reduced throughput on internal traffic, a CPU with at least four cores is required. The following minimum HW recommendations apply:
| | |
| --- | --- |
| CPU | Intel® CoreTM i5-2300+ or equivalent |
| RAM | 4 GB |
| DISK SPACE | Network Control stores data in the Oracle database, no specific HDD requirements |
| I/O | A minimum two network interfaces: one connecting the ship's LAN and the other the communications equipment. |
SUPPORTED OPERATIVE SYSTEMS
Dualog Connection Suite Services and Extensions can run on the following Microsoft Operating Systems: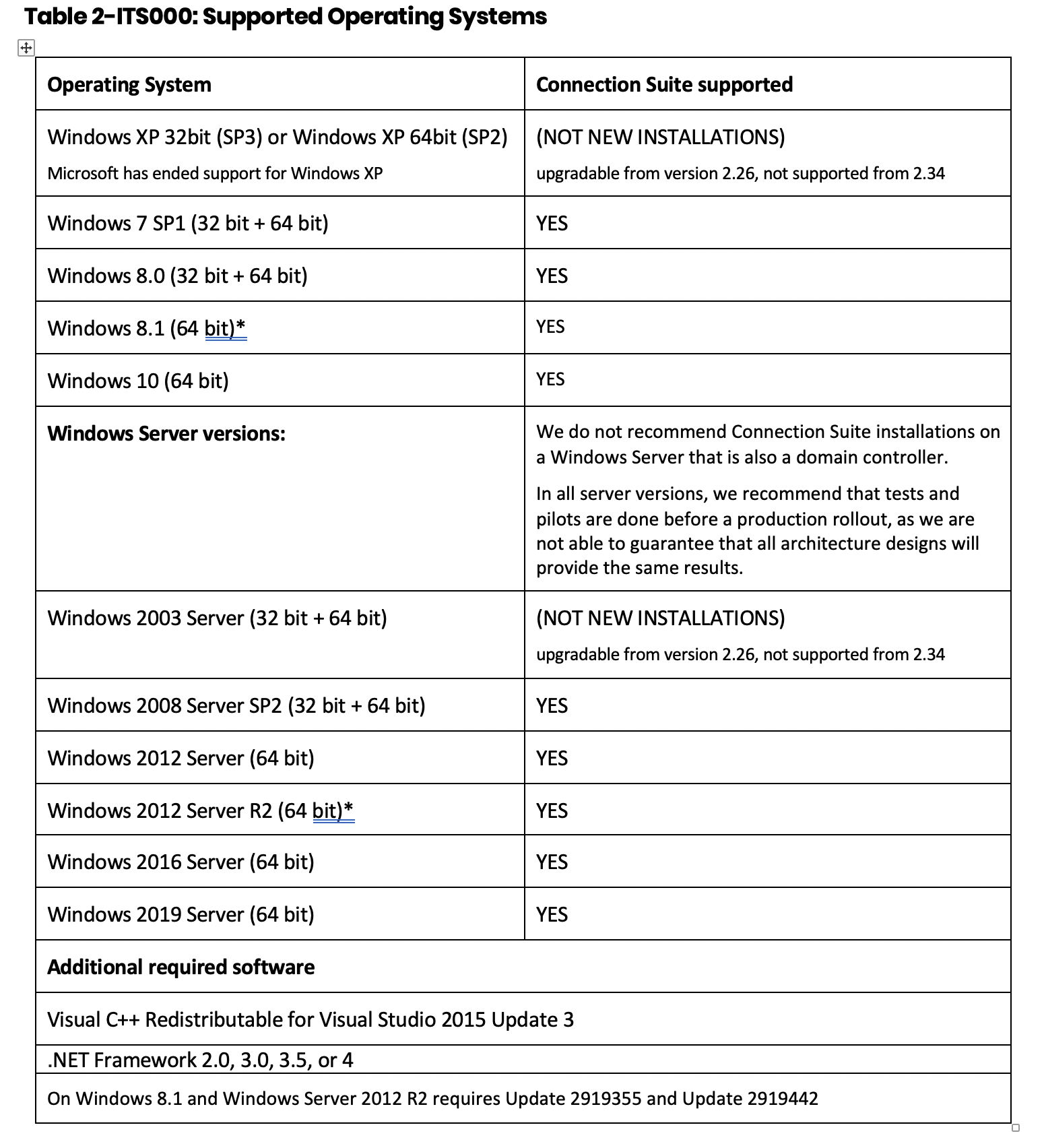 Please note that Windows Server 2019 is compatible only with Dualog Connection Suite 2.39 and above.
The user interface in Connection Suite is mainly a Flash based webpage, and can be accessed via any computer connected to the ship's LAN. The following browsers are tested.


| | |
| --- | --- |
| Microsoft Internet Explorer | 7.0 and newer |
| Opera | 10 and newer |
| Google Chrome | 4 and newer |
Most likely other browsers can also be used.
Adobe Flash player must be installed to be able to access the user interface. If not installed on the client computer, installation can be found on the computer/server running the Connection Suite services. Trying to access the user interface will direct to a link containing this installation.
Important note: For user log-in and usage of Internet, Quota Management and CrewMail (Webmail), HTML5 is supported. Therefore, tablets and smartphones may be used by ship staff to access Connection Suite Services.