Welcome to Dualog Knowledge Base. What are you looking for?
Promoted articles
[CYBERSECURITY ADVISORY] Dualog's response to the Russia-Ukraine Crisis

In response to the escalating military conflict between Russia and Ukraine, Dualog is on heightened alert and is monitoring the situation regarding expected cyber-attacks towards the maritime industry. We acknowledge the severity of the situation and are taking the necessary precautions to mitigate any incoming threats and to enhance cyber preparedness during this time.

We highly recommend all customers elevate their cyber posture and raise awareness among shore and sea personnel.

We know that based on the ongoing cyber-attacks on Ukraine, the use of the so-called supply chain has been a common attack vector. Hence, as a supplier, we have removed all software products related to Russia so that they cannot be used as an entry point.

As a result, one of our virus scanners deployed in our MailDefence product has been decommissioned. We are in the process of replacing this scanner and have ensured that we are providing optimal protection for our customers.

It is worth mentioning that the malware used in supply-chain attacks is designed to inflict serious damage to its target. They have been known to delete files without any way of paying a ransom to get them back. This is not a typical ransomware threat. An off-line backup is the best insurance for this attack.

So far, we have not experienced an attack on any of our customers. However, as the situation escalates, we do anticipate seeing some form of attacks targeting the maritime industry specifically. We will continue monitoring all activity to stop any potential threats as early as possible.

Dualog is prepared to swiftly respond and assist any organizations that fall victim to cyberattacks associated with these geopolitical events.

In case of any significant changes to the situation, we will keep you informed.

Geir Inge Jensen
Chief Information Security Officer
Alerts - Configuration and settings
INTRODUCTION
The Dualog Alerts feature allows administrators to configure alerts for several Dualog services should specific errors or thresholds be encountered or reached. The alert notifications will be sent to all configured recipients.
Alerts configuration can be found at the bottom of the "Organisation" page.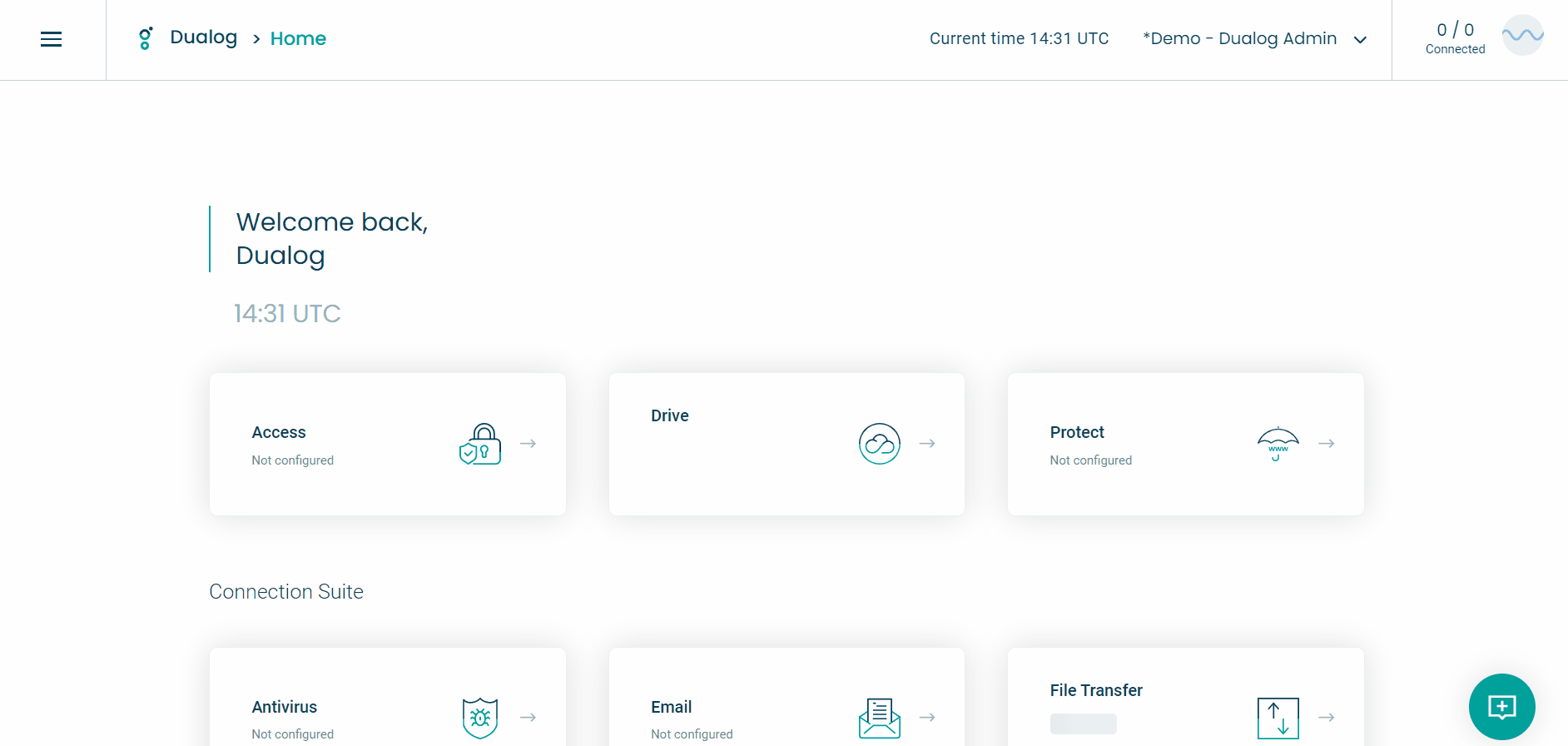 The following will be demonstrated in this article:
Overview of all configurable alerts
Configuring an alert
Adding of the recipient(s)
OVERVIEW OF ALERTS
Antivirus

Alert when a ship has an outdated Antivirus server.
Configurable threshold: 1 - 30 days.

Alert when a ship has outdated Antivirus clients.

Configurable threshold: 1 - 30 days.
ConnectionSuite

Alert when Connection Suite has not connected to the Dualog Cloud for an extended period of time.

Configurable threshold: 60 - 2880 minutes.


Alert when there's more than a predefined amount of crew signed on a ship.
Configurable threshold: 1 - 200 minutes.
DualogDrive

Alert when Drive detects an issue.

Configurable threshold: 15 - 2880 minutes.
Alert when a transfer has taken too long to complete.

Configurable threshold: 15 - 10080 minutes.
DualogProtect

Alert when a device is trying to contact a malware (Command&Control/C2) server - Enable/Disable.

Email

Alert when a ship does not have a recent IMAP server backup.

Configurable threshold: 2 - 30 days.
Link

Alert when a Link Platform installation has been offline for an extended period of time.
C

onfigurable threshold: 15 - 2880 minutes.
CONFIGURATION OF ALERTS
To enable an alert, first select its category from the list and a pop-up window will then appear where the applicable alerts and their parameters may be adjusted.
Save Changes
When the configured threshold has exceeded for an active alert, an email will be sent to all alert recipients.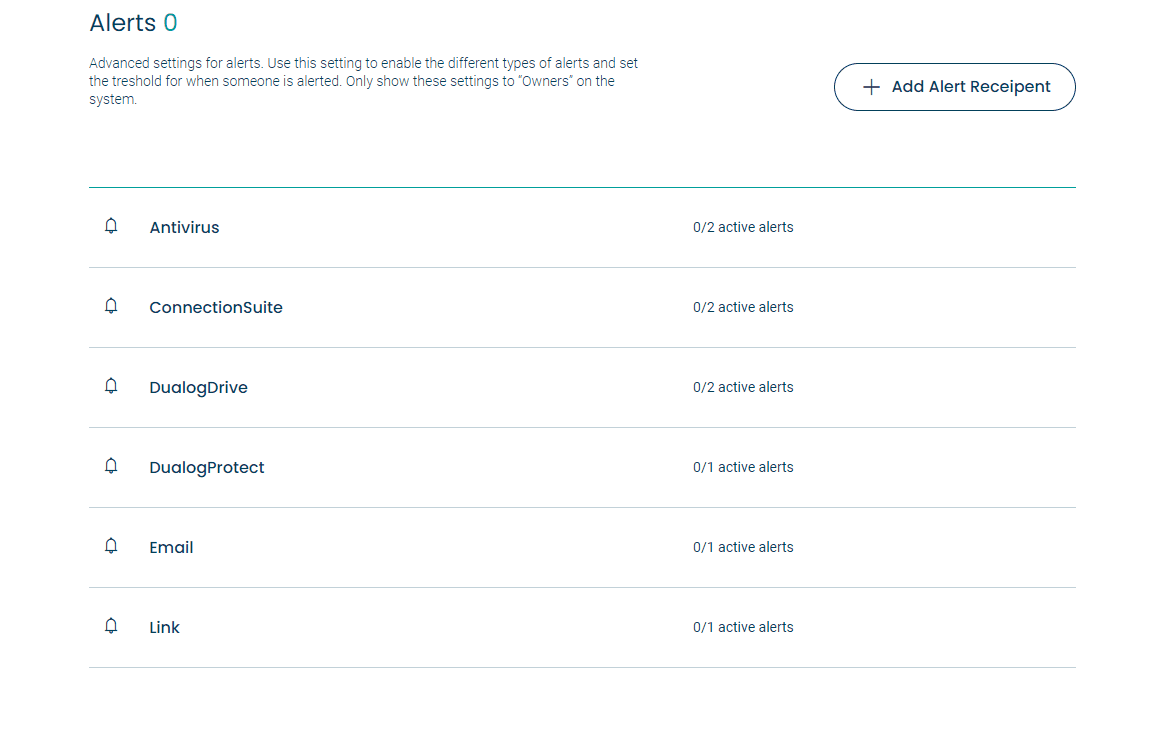 ADDING OF THE RECIPIENT(S)
You may select "Add Alert Recipient" to add email recipients of your configured alerts as shown below:
When the recipient(s) is/are added, they will receive an email to verify that they want to receive future Dualog Alerts.
Proceed with the verification to receive the configured alerts.
Dualog Portal - Getting Started
This article will provide step-by-step instructions on how to get started on Dualog Portal before accessing the available features.
Register an account on Dualog Portal (For both existing and new customers)
Request for an invitation to an organization.

If there is/are existing members within the organization, they may send an invitation (Under Procedure for Owner)
If there is/are no existing members within the organization, reach out to Dualog support

at

support@dualog.com with the registered email address or username.

Accept the invitation (Under Procedure for invitee)
You are all set to access the available features now!
Articles on the available features on Dualog Portal are available here, along with video tutorials here.
For official feedback submission, please log in to Dualog Portal and submit a form located at the bottom right.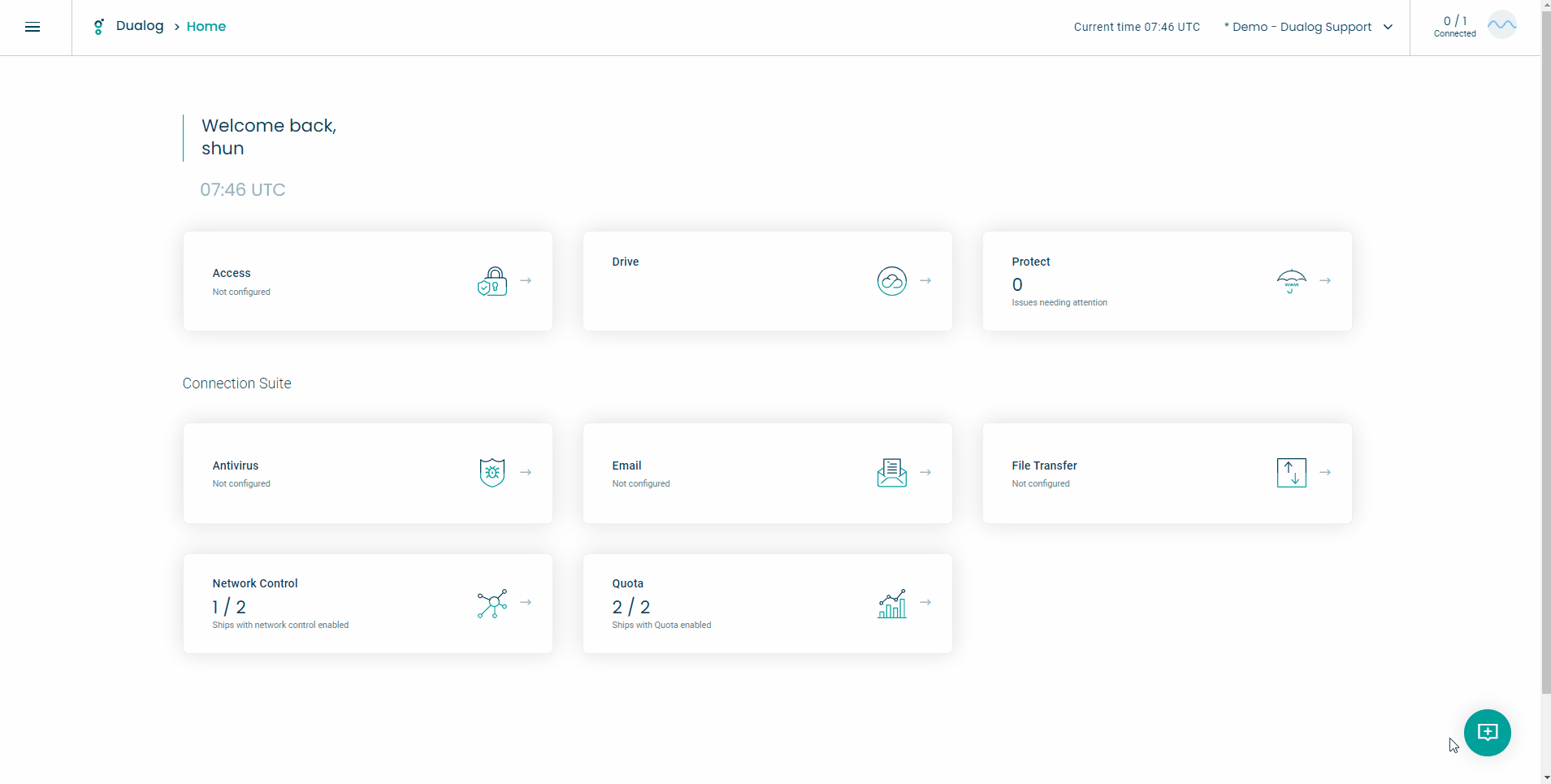 Spam Score Quarantine
INTRODUCTION
Aside from the general quarantine feature, where a message that exceeds the enforced size restriction is quarantined or rejected if the feature is not enabled.
Spam score quarantine is now available for your vessels as an additional layer of email filtering and security. By default, this feature is disabled.

When enabled, all incoming emails with a spam score higher than a certain threshold are quarantined here before being delivered to the intended vessels.
Dualog Maildefence evaluates and determines the spam score.
This article will walk you through the process of enabling the spam score quarantine feature, editing the spam score option, and releasing quarantined emails due to the spam score threshold.
ENABLING OF SPAM SCORE QUARANTINE

Upon logging into the Dualog portal with your account, proceed to Connection Suite > Email
Go to Settings > Under the Quarantine section, click on Edit settings
Click on Edit Threshold
By default, 7- 10 option is selected (Other options that best meet your requirements can be chosen)
Save Changes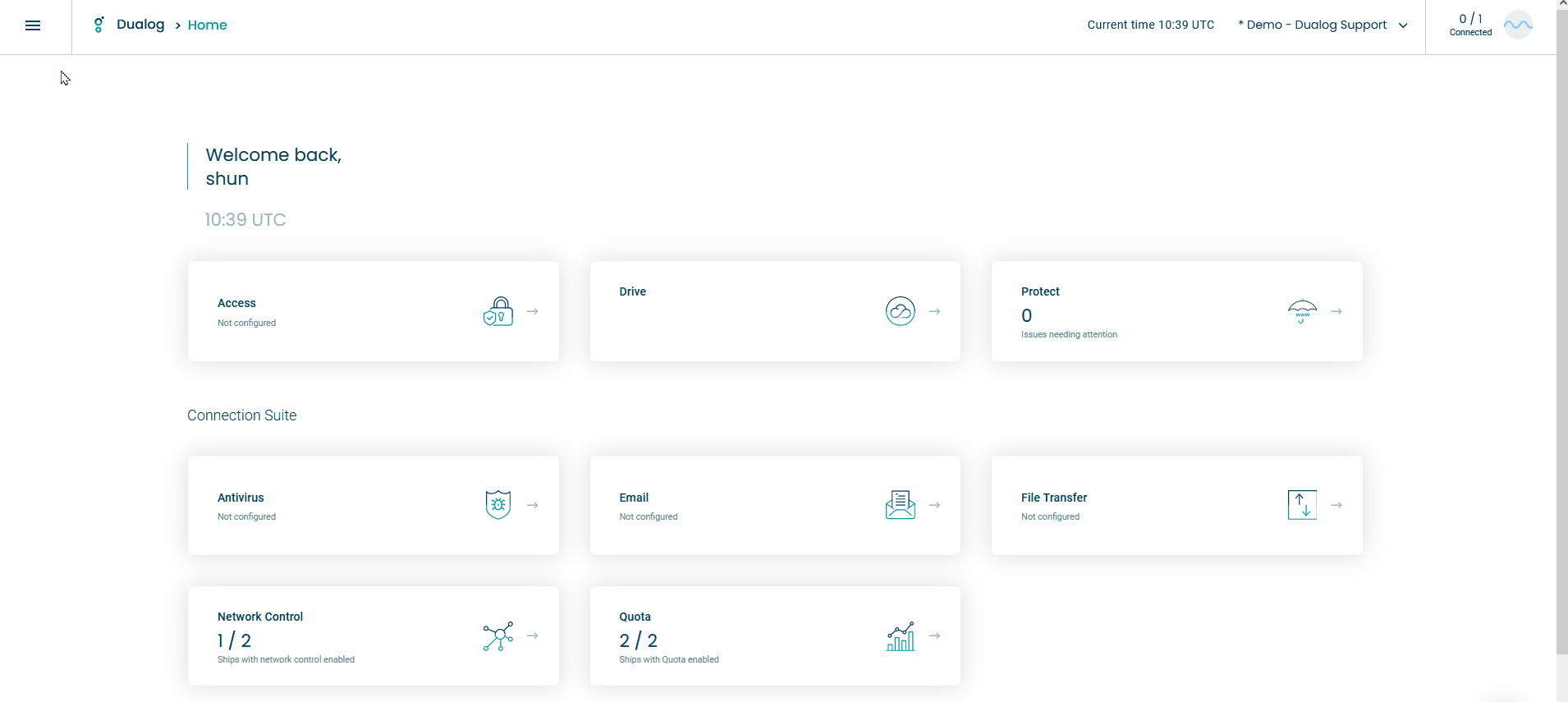 Note: The threshold option can be changed at any time, and it will apply to newer incoming emails.
RELEASING OF SPAM SCORE QUARANTINED EMAILS

Upon logging into the Dualog portal with your account, proceed to Connection Suite > Email
Click on Quarantine Messages
Locate email(s) that is/are quarantined due to the reason "spam score"
Click on the kebab menu to approve, reject or check on the email headers for further assessment of the legitimacy of an email