Promoted articles
Latest Connection Suite download links

On this page, you will find the latest download links for Dualog Connection Suite. Click on the link related to the product you wish to download and select where you want to save the file on your PC.

CONNECTION SUITE 2.39 FILES



Click here to download the unattended versions of the same installers.

CONNECTION SUITE VERSION 2.36 AND 2.38

You will find the Connection Suite version 2.36 and 2.38 install files here.

If you need an even older version of Dualog Connection Suite, please inquire Dualog Support at +47 77 62 19 11 or send an email to support@dualog.com.
How to install Connection Suite
This guide describes the necessary steps to install the latest version of Dualog Connection Suite. The PC where Dualog Connection Suite is going to be installed will be referred as "Dualog PC".
Doubleclick on the setup_x64_2.32.002.exe. If you receive an error stating that your Operative System is not compatible with this version, doubleclick the setup_x86_2.32.002.exe file.
Click on "Yes" on the following pop-up dialogue box.
Click on "Next", then on "I Agree", then on "Next".
You will see a popup window confirming that Port 80 is available for Dualog Web Server. In the unlikely event that the port 80 is occupied by something else, choose port 81 and click on OK, then in the following window click on "Next".
You will be now prompted to choose if you want to install Oracle XE as a part of the installation. Make sure that Archive Log are ticked and click on the Install button.
After a minute or so you will be asked to choose if you want to install the Duacore Pro service. Click on "Yes".
At the Installation Complete window, click on "Next", then on OK. At this point the Oracle database installation procedure will begin.
ORACLE 11g EXPRESS EDITION INSTALLATION PROCEDURE
On the InstallShield Wizard for Oracle Database 11g Express Edition welcome window, click on Next.
Click on "I accept the terms in the license agreement" and click on "Next", then "Next" again.
When prompted to enter and confirm a password for the database, write the following password: oracle
Confirm the password and click "Next", then click on the Install button. When the install procedure is complete, click on the "Finish" button.
When you see the "Database Initialization OK" window, click on "Next".
You are now requested to insert the StartPack file. Click on the "…" button, navigate to where the StartPack file is located on your computer and click on Next.
You will be prompted to allow the Apache service through the Windows Firewall. Select all options (Private networks and Public networks) and click on the "Allow access" button. Complete the installation.
You will be asked if you want to reboot the PC now. Click on "Reboot Now".
After the PC has rebooted, test all Dualog functionalities (send and receive emails, test internet surfing, register crew on board where applicable) and if you notice something out of ordinary, please contact your IT department or Dualog support @77621911
If this is not a new installation of Connection Suite and you possess an IMAP backup that needs to be restored, you can

start the procedure anytime now. If you are preparing a reinstallation, remember to

perform an IMAP backup before

uninstalling Connection Suite.
If you are planning to install the Dualog ESET Antivirus solution on the Dualog PC, you can

start the procedure anytime now.
System Requirements for Connection Suite
Dualog Connection Suite consists of a standard package plus optional extensions. This document describes requirements of different configurations of Dualog Connection Suite, as well as software requirements/support. This document is valid from Dualog Connection Suite version 2.28 and onwards.
CORE INSTALLATION HARDWARE REQUIREMENTS
Please note that these requirements are a minimum.
IMPORTANT: If other applications are running on the same computer as Dualog Connection Suite, higher CPU, memory and disk capacity apply.
The following requirements apply when running the Dualog Connection Suite Core service only:
| | |
| --- | --- |
| CPU | Intel® CoreTM i3 or equivalent |
| RAM | Minimum 2 GB (recommended 4 GB) |
| DISK SPACE | The installation itself take approx. 50 GB. In addition data storage (e-mail, log files, File Transfer, database etc) must be added. See 2.2.1 for email estimates. HQ graded server disks are highly recommended. |
| I/O | Serial Ports, Network Adapters according to communication equipment requirements. |
When using the email services (Business Mail and Crew Mail), no further requirements apply to CPU and RAM, while disk requirements will increase.
In average the email services generates approx. 20 GB per year, while backup will add up this space multiplied by 4.
To avoid reduced throughput on internal traffic, a CPU with at least four cores is required. The following minimum HW recommendations apply:
| | |
| --- | --- |
| CPU | Intel® CoreTM i5-2300+ or equivalent |
| RAM | 4 GB |
| DISK SPACE | Network Control stores data in the Oracle database, no specific HDD requirements |
| I/O | A minimum two network interfaces: one connecting the ship's LAN and the other the communications equipment. |
SUPPORTED OPERATIVE SYSTEMS
Dualog Connection Suite Services and Extensions can run on the following Microsoft Operating Systems: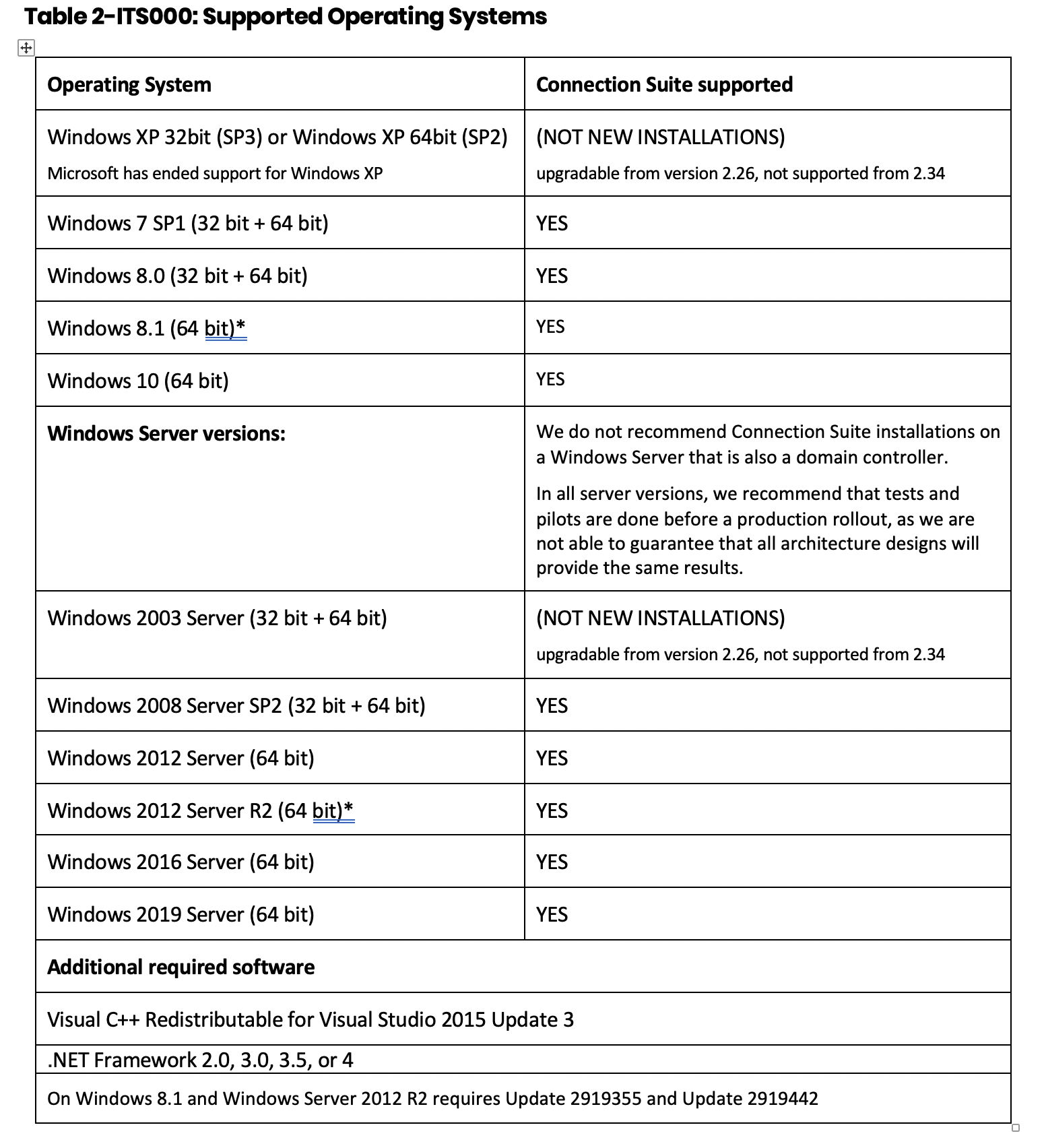 Please note that Windows Server 2019 is compatible only with Dualog Connection Suite 2.39 and above.
The user interface in Connection Suite is mainly a Flash based webpage, and can be accessed via any computer connected to the ship's LAN. The following browsers are tested.


| | |
| --- | --- |
| Microsoft Internet Explorer | 7.0 and newer |
| Opera | 10 and newer |
| Google Chrome | 4 and newer |
Most likely other browsers can also be used.
Adobe Flash player must be installed to be able to access the user interface. If not installed on the client computer, installation can be found on the computer/server running the Connection Suite services. Trying to access the user interface will direct to a link containing this installation.
Important note: For user log-in and usage of Internet, Quota Management and CrewMail (Webmail), HTML5 is supported. Therefore, tablets and smartphones may be used by ship staff to access Connection Suite Services.



Checking personal internet traffic summary
Access your personal Dualog page with your private login credentials, then click on the My Page tab and then on Internet Traffic.
What you see is a report of your internet usage. You may use this information to better understand how your internet traffic has been used.
Note: For privacy reasons, Connection Suite does not store information about the destination (i.e. what sites or services you've used). It only stores the amount of data, and from what device you've used this data
Click the Internet Traffic tab.
Choose From a date and To a date in the upper left part of the Search section.
Click Search to see your Internet traffic for the selected period in the window on the next
page.

Note: You may get more data in the sections Hire Summary and Transactions in the lower part of the window above.
Clicking on the Internet Status tab, you will also be able to see 
how much data you have consumed and how much data you have left in your account for the time being.