INTRODUCTION
The Dualog Endpoint service is the latest addition to our security service portfolio. Being at an early stage, we are currently finalizing the user interface on the Dualog Portal. More reports and settings will be gradually made available. However, it is important to highlight that the ESET Endpoint client is a full-fledged service that provides complete endpoint protection for your computers onboard.
As always with new services, we recommend installing the new service on a limited number of devices, to begin with.

GETTING STARTED
Configure firewall rules


Ensure that you have configured your firewall to allow
Protocol: TCP
Port: 2222, 2223
Direction: to and from
Destination(s):

apps.dualog.com (93.188.232.76)

downloads.dualog.com (93.188.232.75) (only for the "ESET Cloud Deployment" feature)
If you use the Dualog Network Control service, the rule can be added directly to the Dualog Portal. Refer to the article Network Control: Firewall Rules if you should need extra assistance.


The Dualog Link Client needs to be installed on all the computers where the Dualog Endpoint Service will run.

Note: if any of your computers are already running version 8.5 and below of Dualog Link Client, ensure that your run the installer to include the support for the Dualog Endpoint service. Another trick is to push the latest version of either Drive, Protect, or Access, and that will automatically include the latest version of the Link client.


Download the Dualog Endpoint installers here, according to the OS:
USER INTERFACE

For the duration of the EAP, the Endpoint status and setting can only be reached directly by going to Dualog Endpoint Status Page.
Currently, the Dualog Endpoint offers the following features:
USB blocking

Tagging of different clients to create custom policies

Local caching
Furthermore, the following reporting is available on the portal
Ship installations and devices overview

Device update status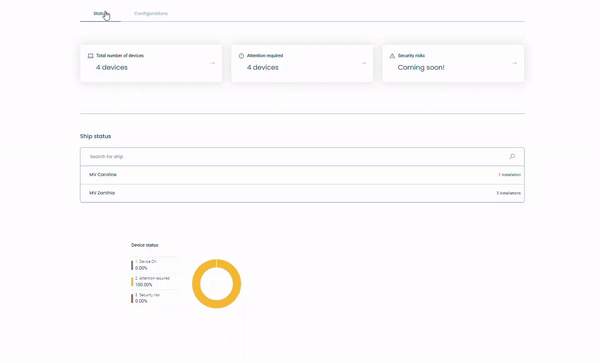 For more information, view the most latest Product Webinar here, which focuses on how Dualog® Endpoint will address key problems when deploying security software via satellite across fleets.