INTRODUCTION
Dualog® Protect is available in different plans and tiers to cater to your specific needs. Make sure the respective IP addresses and ports are whitelisted according to the system requirements.
Dualog Protect SECURE (common within all tiers) prevents communication attempts by malware, access to infected websites, and communication attempts to "C2" (command and control) servers.
Below are the included security categories:
CATEGORIES
DESCRIPTIONS
Malware
Block requests to access servers hosting malware and compromised websites via any application, protocol, or port.
Command and Control Callbacks
Prevent compromised devices from communicating with hackers' command and control servers via any application, protocol or port and help identify potentially infected machines on your network.
Newly Seen Domains
Domains that have become active very recently. These are often used in new attacks.
Phishing
Protects users from fraudulent hoax websites designed to steal personal information.
DNS Tunneling VPN
VPN services allow users to disguise their traffic by tunneling it through the DNS protocol. These can be used to bypass corporate policies regarding access and data transfer.
Potentially Harmful Domains
Domains that exhibit suspicious behavior may be part of an attack. This category has a higher risk of unwanted detections.
Cryptomining

Allows you to block identities from accessing known crypto mining pools where miners group together and share resources—processing power—to better gather and share cryptocurrencies, and from known web crypto mining source code repositories.

By blocking crypto mining, Umbrella protects you from the recent emergence of crypto-mining malware.

Dynamic DNS
Block sites that are hosting dynamic DNS content.
In addition to critical security (SECURE), SECURE+ gives you the possibility to add category filtering to your policy. You can choose between three predefined policies - Basic, Moderate and Strict.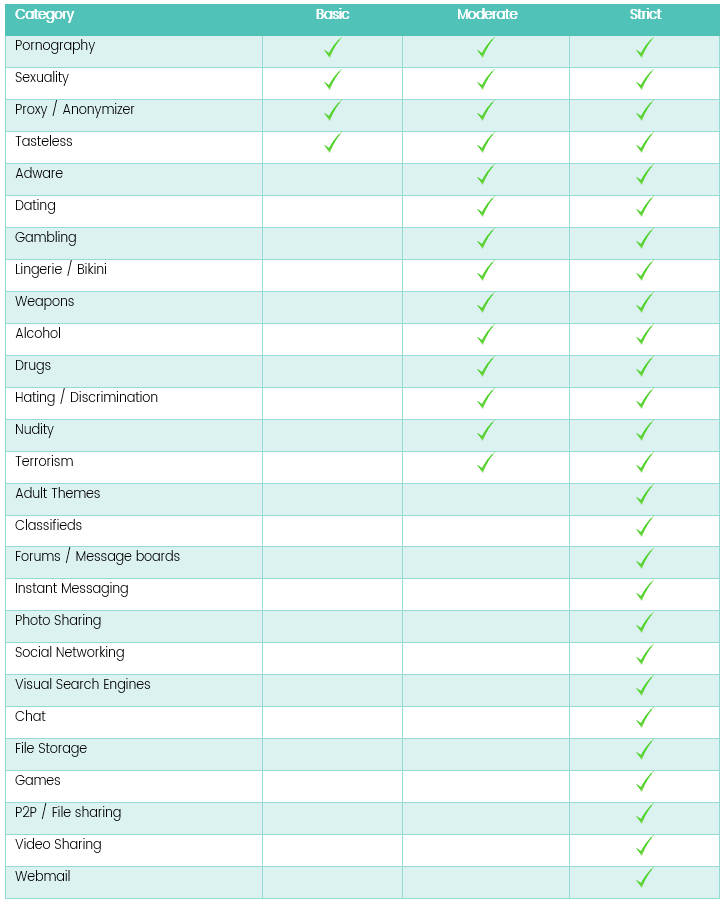 Choose your preferred plan and apply it to your Protect policy.