The following document serves as a guide to perform an IMAP restore.
If you have a computer crash or changing to a new computer and have a valid IMAP backup, then you can use this procedure to restore your mail content.
Make sure you have a valid IMAP backup. This would mean that you at least have the following files:

imapmailstore.dualogbackup.archive
imapmailstore.dualogbackup0

If the backup contains several GB of mail you should have more then just the two files above. This is an example of a regular IMAP backup of decent size:


Login to Dualog Connection Suite
Click on the Support tab, then on Backup
On the "Restore" tab you see the backup folders that are configured

(1)

To restore a backup, you will have to know the path of the backup file

(2).

For the import, you only need to select one file and that is the .archive file as shown in the screenshot below. After you have successfully selected a backup you can press Import

(3)

to start restoring the IMAP backup.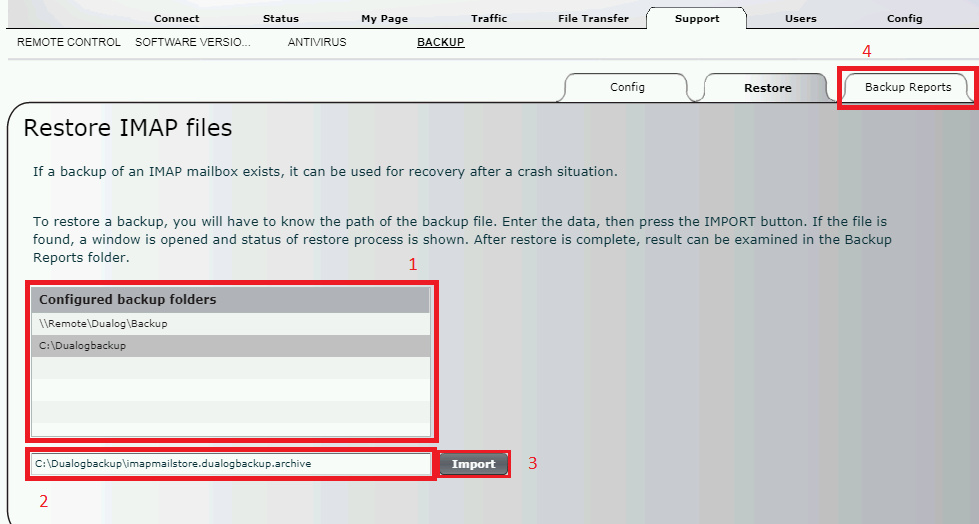 5. After you have pressed the import button, and the file is found, a window is opened and status of the restore progress is shown. The restore will take anything from a couple of minutes to hours depending on the size of the IMAP backup. Once the restore is complete you can check the results in the Backup Reports tab (4). You should also verify in your mail client that all expected mail is shown.